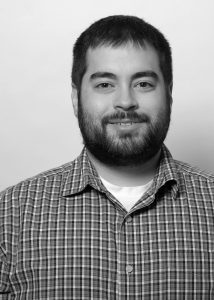 We are pleased to announce that Brian Lesser is the new Manager of Operations in the Academic Technology Services (ATS) unit, which is the Dal Libraries department responsible for managing technology in the libraries and classrooms, video conferencing services, and Brightspace.
This role is a new one for the Dalhousie Libraries. Brian will be responsible for overseeing the Libraries technical infrastructure, provide management and leadership to the operations team (system administrators, developers, and statistical computing), will be responsible for the implementation of technology-enabled learning projects, and will have ownership of the academic software lifecycle.
Brian is a two-time Dalhousie alumnus, with a BA and a Master of Library and Information Studies (MLIS). He was awarded the Louis Vagianos Medal on convocation in 2018 for "the capacity for blending originality with practical thinking and the courage to seek solutions to professional problems outside the mainstream." The first winner of this award was our very own University Librarian, Donna Bourne-Tyson.
A Nova Scotia native, Brian started his career in academic technology at Acadia University as a student assistant and pedagogical researcher running summer technology camps for secondary school teachers and students. His career at Dalhousie began in 2004 as a student assistant, then in 2006 he became a Systems Administrator with the former Academic Computing Services department of central IT services.
Brian joined the Dalhousie Libraries in 2013 when Academic Computing Services merged with the Dalhousie Libraries' ITS, now known as Academic Technology Services. His early career had focused on instructional technologies and eLearning, but since joining the Dalhousie Libraries and pursuing an MLIS degree, Brian has developed a strong interest in library systems and library services, including a keen interest in user experience, service design, and research data management.