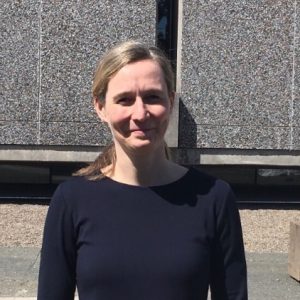 We are pleased to introduce Kirsten Huhn as our new Collections Analysis Librarian. Kirsten started with the Dal Libraries on February 4.
Prior to joining the Dal Libraries, Kirsten was the Head of Acquisitions and Serials at Concordia University Library in Montreal. She has also worked as a librarian at Jacobs University Bremen in her native Germany. Kirsten has extensive professional experience in Collection Services, specifically in the areas of acquisitions, collection management of serials and electronic resources, and budget management.
The Collections Analysis Librarian is a new position in the Dalhousie Libraries. In this role, Kirsten is supporting the acquisition, assessment and integration of the Libraries' print and electronic collections. Working as part of the Resources team, she is closely involved in collection development and management operations. In addition to her role in the Resources team, Kirsten serves as a subject liaison to Earth Sciences and Environmental Sciences.
Kirsten is a strong believer in user-centered service and is looking forward to supporting the academic mission of Dalhousie, through her role with the Dal Libraries.
Kirsten has a Master of Library and Information Studies (MLIS) from McGill, and a Magister Artium (M.A.) from Leipzig University. In 2000, she was a visiting student in the Graduate Studies program at Dalhousie.
We're so happy to welcome Kirsten back to Dalhousie and Halifax.