This past weekend, the Dal Libraries participated in Doors Open Halifax, an annual event that makes free access to buildings of historical, contemporary or architectural significance to the general public. We welcomed nearly 1,500 visitors to our exhibit over the weekend.
Since we're celebrating Dal 200 all year, the team in the Archives pulled out all the stops and put together a display including historical documents and binders of hundreds of photographs from Dal's history, as well as materials from some of our others collections such as items relating to Neptune Theatre, the Olands, the Bluenose, and the Nova Scotia Tattoo.

We were thrilled to be in Halifax Hall at City Hall for this special event, which in itself was a nod to Dal's history as City Hall sits on the site of the original Dalhousie College. Thank you to our friends at City Hall for sharing your venue with us. Thank you also to our friends at the Dalhousie Art Gallery for loaning us the beautiful cases that allowed us to safely display some original documents that we generally don't get to put on display.
Finally, thanks to all of you for coming to see us on the weekend. We were thrilled to share these treasures from our collection with you.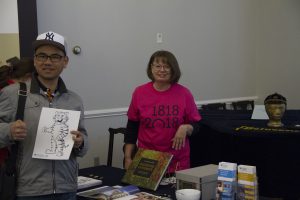 Double click on a photo to enlarge. Photos by Creighton Barrett.