Launched on January 15, the #1Lib1Ref campaign is uniting libraries around the world. Supported by Wikipedia Library and a number of Wikimedia Affiliates, the campaign aims to make Wikipedia better for all by encouraging information professionals to add citations to Wikipedia entries.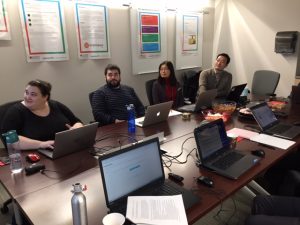 Libraries of all types and sizes are hosting activities and the Dalhousie Libraries is no exception. Lindsay McNiff and Margaret Vail hosted a ninety minute Wikipedia Edit-a-thon for the Dal Libraries on January 24.
"We put out a call to Dal librarians, Libraries' staff whose work involves reference shifts, and Libraries' staff who have or are working on a Master in Library and Information Studies degree to join us in improving the mighty but flawed Wikipedia," said Lindsay. "Many people use Wikipedia, but if the entry they're using isn't backed up by a reliable source, that's reason enough to question the information."
"Despite the stormy weathe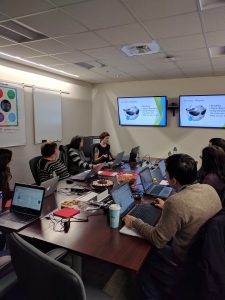 r, we had nine participants and we edited 28 different citations during our edit-a-thon," said Margaret.
Wikipedia aims to be the "sum of all human knowledge." On English Wikipedia alone, more than 380,000 articles are in need of citations and another 210,000 have no references at all. (Source: The Wikipedia Library/1Lib1Ref)
"In this post-truth era, the ability of information professionals to provide access to reliable, verified sources of information, and when possible to contribute to the development of these impartial, accurate sources, is more important than ever," said Donna Bourne-Tyson, University Librarian.
The #1Lib1Ref campaign runs until February 3.