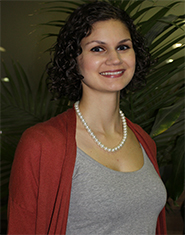 Hailing from Halifax, NS (her favorite place in the world!), Leah Boulos came to Dalhousie after receiving her Bachelor of Music from Mount Allison University in 2010.
"After spending time away for school, travel, and work, I knew it was time to come home to Halifax," says Leah. "The MLIS program at Dalhousie attracted my attention because of its unique location within the Faculty of Management."
As a Kellogg Library intern, Leah feels fortunate to have worked on quite a variety of projects and tasks. These include reference work, a number of informational and tutorial videos, systematic review support, subject guide content creation, weeding the collection, working in circulation and document delivery, and more.
"Thanks to the wide array of training that I have received as a Kellogg intern and Dalhousie MLIS student, I feel like the world will be an open book for me after graduation. Right now my interests lie mainly in health sciences librarianship, but I can also see myself working in any form of academic or public library," says Leah. "Above all, I intend to use my skills to help members of the public access information – a core tenet of librarianship that I value highly."