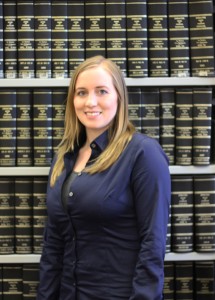 This is Veronika's second summer working as an intern at the Sir James Dunn Law Library. It's the ideal place for Veronika, who is working on a combined degree, pursuing both her JD (Juris Doctor) and MLIS (Master of Library and Information Studies). In the winter, she works at the circulation desk at the Law Library.
Before coming to Halifax from British Columbia, Veronika enjoyed working in a public library. She also had an interest in law, so when she found Dal's combined degree program, she knew it would be a perfect fit for her.
Veronika is spending some of her time this summer working on a metrics project that looks at publication and citation rates of law faculty across Canada. This kind of information can be used to compare Dalhousie's law school to other schools across Canada.
"This internship has helped me with all the research and writing that I have to do as a law student," she says. "Working at the law library has also made me more aware of the kinds of legal assistance that people need. So many of the skills I've learned here will make me a better lawyer, if I decide to practice law."
Veronika hasn't yet decided if she will practice law or work as a librarian in a firm or a university. "The combined degree program gives me many exciting options," says Veronika.