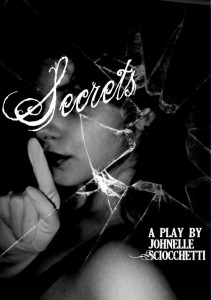 Johnelle Sciocchetti, who works in the Killam Library Circulation Dept., is having a play she wrote open tonight at The Living Room Theatre on Agricola St.
"Secrets," which Johnelle is also directing, is produced by the Dal Theatre Society and involves a group fo friends who, after a night of studying and drinking together, discover they have secrets they've been hiding from each other for years.
Our multi-talented Johnelle was profiled here when she began working for the Libraries in June 2011. "Secrets" is actually her fourth play to be produced by Dal Theatre Society, so she is someone to watch!
"Secrets" runs from March 22-25 with shows at 7:30pm, and a Saturday matinee at 1pm. Tickets are a very affordable $3. Break a leg Johnelle!