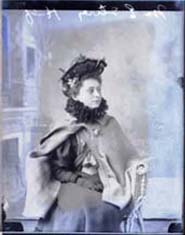 Dalhousie University Archives is the owner of a fascinating collection of 45,000 glass plate, film negatives, and prints from the Waldren Studios of New Glasgow and Antigonish. The Archives has made this rich collection accessible online.
The majority of the photographs are in the form of glass photonegatives. Approximately 90% of these are portraits, nearly all of which are identified and dated (the subject in this photo, dated 1895, is Mrs. E. Storey of Halifax). Many of the remaining photos are local scenes, a few of which were taken in New Glasgow before the fire in 1874 which devastated the town. The photos show coal mining, shipbuilding and other local industries in action. Portraits of family groups, sports teams, social clubs and school groups are also well represented.
Explore the Waldren Studios Digital Collection now!