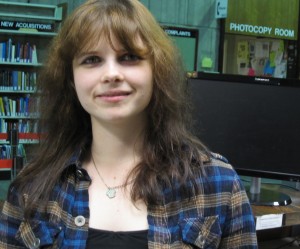 Playwright. Fleetwood Mac groupie. Penguins fan. Actor.
You've probably seen her behind the Killam Circulation Desk signing out books but we're betting you didn't know that Johnelle Sciocchetti, who now works full time effective June 6, wears so many interesting hats. Having graduated from Dalhousie in 2010 with a BA in English, Johnelle ended up working in the library "kind of by accident." A friend who's now in the Dal MLIS program told her about a posting at Killam, and hoping they could work together at the Dal Libraries she applied and got the job. She began doing stack maintenance, then worked as a summer student assistant and finally ended where she is now, alternating shifts on the Circulation Desk and in the book stacks.
Johnelle claims she enjoys her stacks work the most. "It's like a puzzle," she says, setting up the shelving correctly and fitting the huge amount of material into it properly. It's no surprise she finds pleasure in working with books as she's an avid reader, especially of biographies—autobiographies by Patti Smith and Ann Murray are sitting on her desk now. And this brings us to Johnelle's next love: music. Her screensaver is a shot of Fleetwood Mac dated 1976 and she carries a Fleetwood Mac wallet in a Fleetwood Mac cloth bag to work. "The first job I had," she says, "I used the money to buy myself a record player." She now has a huge vinyl collection to play on it.
Johnelle's real passion though is theatre. She writes plays, and has had three performed by the Dal Theatre Society: "Blonde Alfred," a co-written murder mystery; "Coffee," a same-time-next-year plot with three friends meeting once a year for coffee; and "Late for the Sky," which is about a young woman coming to terms with her sexuality ("Getting that on stage was one of the best things to happen in my life!") Did we mention she also directed and starred in these productions? As if this weren't enough Johnelle is pursuing another interest while writing a new play and working full time: economics. She took a course at Dal last year and intends to take more. And sports fans should know she's seriously into hockey and has been a long-time supporter of the Penguins, "…ever since the nineties, when they were terrible!"
Drop by the Killam Circ Desk and have a chat with Johnelle some time—a lively and interesting conversation is guaranteed. We're delighted to have you with us full time Johnelle!