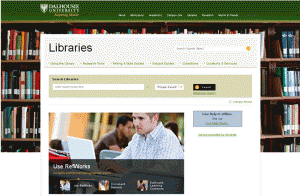 This Wednesday the Dalhousie Libraries will be launching our new website as part of "Wave One" of Dal's web revitalization project. We've used this timely opportunity to rethink the way we present ourselves and our information based on usability testing. Much more than a new look, our site is being streamlined and reconfigured to make it more user-friendly. Key features include:
a single search box with multiple drop-down options
a "Using the Library" tab to get you started
library Hours link front and centre
a central "carousel" highlighting our most popular resources and services
a Research tab with links to tools and new discipline-specific resource pages
a Writing & Style Guides tab
a more dynamic library news and events section
We hope you like what you see, but even more—we hope you find the new library site much easier to use than our old one. A website is always a work in progress. We'd really appreciate your feedback so please use that red feedback buttonat the bottom of the page to let us know what you think!