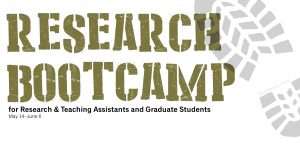 For the 4th year, the Dalhousie Libraries is offering Research Bootcamp, a suite of sessions designed for teaching and research assistants and graduate students. If you or someone you know could benefit from developing effective and efficient information management techniques and literature search skills to support research endeavors, please share this information with them.

Sessions will run from 
May 14–June 6
 and will cover: library basics; literature reviews (searching and writing); citation tools; writing abstracts & grant proposals; copyright, open access & predatory publishers; legal resources; business and competitive intelligence resources, PubMed and other health sciences databases; humanities resources; Canadian data and stats; grey literature; research data management; Excel; data visualization; conference posters. Complete session list and descriptions are available at 
http://dal.ca.libguides.com/ResearchBootcamp/2018/Schedule

Faculty can recommend the workshops to their RAs/TAs or register on their behalf. Participants can attend most sessions in-person in Halifax (various Halifax Campus locations) or via video conferencing at the Agricultural Campus or DMNB.

Event website, including schedule, session descriptions, FAQs 
http://dal.ca.libguides.com/ResearchBootcamp