By Nicole Maunsell.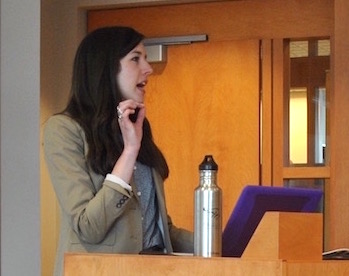 Deborah Hemming knows a lot about uniting people with the information they need, whether it's what makes researchers want to share their data, or how to find a new audience for a classic book. She's also one of the few people you'll hear describe writing her thesis every day as "a real treat." But she's always been at home in an academic environment. After earning an MA in English from McGill University and working as a freelance writer in Montreal, she came back home to Halifax to study for a Master of Library and Information Studies(MLIS) degree at Dal, drawn by the small program size, which she says fosters a "supportive and highly collaborative community."
Hemming's ambition is to be an academic librarian, and her time at SIM gave her a chance to work in two different university libraries. For her practicum, she worked at the Vaughan Memorial Library at Acadia University, where she got to see the inner workings up close: "attending meetings, talking to librarians and library staff, and working on interesting projects."
She also did an internship at Dal's Killam Library, where she worked at the reference desk, created instructional content for the website, led orientation sessions and worked on assessment projects to help better understand library users' needs. She also enjoyed making themed book displays. Her favourite was "Blind Date With a Book," which promoted the library's fiction collection and helped match readers with books they might not have considered otherwise. Hemming and her colleagues wrapped classic books such as The Great Gatsby, Anne of Green Gables and newer ones like The Silent Wife by A.S.A. Harrison in brown paper and wrote "dating profiles" describing each without revealing the name or author. "It was a real highlight," she says, noting that it prompted some students to register their library card for the first time. "That in particular was very rewarding." Read the full profile here.