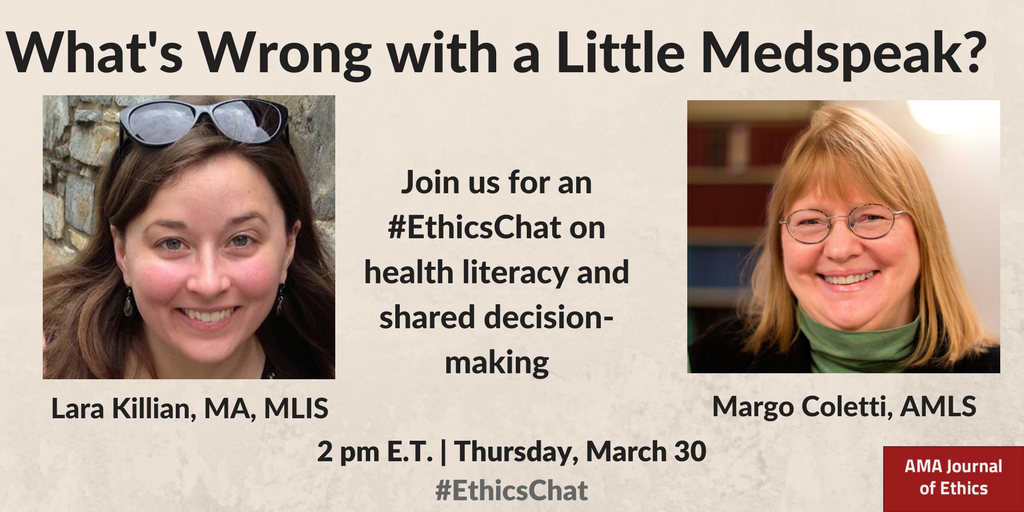 Lara Killian (MLIS 2010) and co-author Margo Coletti of Beth Israel Deaconess Medical Center in Boston published an article on medical jargon and the importance of clear patient-provider communication in the March 2017 issue of AMA Journal of Ethics <http://journalofethics.ama-assn.org/2017/03/pfor1-1703.html>.
To keep the conversation going online, Lara and Margo will take part as guest experts for a dedicated health literacy and shared decision making chat on Twitter using the hashtag #EthicsChat and moderated by the Journal editorial staff. The tweet chat will be held on Thursday March 30 from 3-4 pm Atlantic time.
Lara manages the patient education pamphlets collection for the Nova Scotia Health Authority, and has partnered with Nova Scotia Public Libraries as well as Halifax Public Libraries to index the pamphlets in all public library catalogues throughout the province. Check out the collection <http://library.nshealth.ca/PatientGuides> of patient education resources she manages in Libguides to find health-related apps, podcasts, videos (not to mention hundreds of patient pamphlets) and increase your own health literacy!
Our article
Killian L, Coletti M. The Role of Universal Health Literacy Precautions in Minimizing "Medspeak" and Promoting Shared Decision MakingAMA Journal of Ethics. March 2017, Volume 19, Number 3: 296-303. doi: 10.1001/journalofethics.2017.19.03.pfor1-1703.  http://journalofethics.ama-assn.org/2017/03/pfor1-1703.html