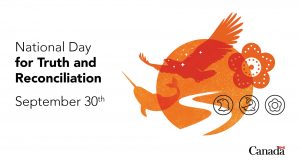 September 30, 2021, marked the first National Day for Truth and Reconciliation.
The day honours lost Indigenous children and survivors of residential schools, their families, and communities. It is a day for national reflection on the historic legacy and present-day consequences of residential schools, which is critical to reconciliation.
Reconciliation is the process of healing relationships between Indigenous and non-Indigenous Canadians and addressing the wrongs of the past. This requires building meaningful partnerships with Indigenous communities, embedding Indigenous needs and perspectives in decision-making, and recognizing Indigenous sovereignty and the inherent right to self-determination.
We encourage you to learn more and read about events and resources available for the National Day for Truth & Reconciliation.
While there will be no classes and the university will be closed on Saturday, September 30, however, two locations of the Dalhousie Libraries that have Indigenous Community Rooms will be open:
Ko'jua Okuom at the Killam Memorial Library: 1–8 p.m.
Indigenous Community Room at the MacRae Library: 12–5 p.m.