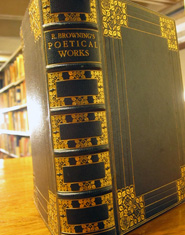 The elegant cover designs of English master bookbinder Douglas Cockerell (1875-1945) are world famous. In the 1930s the Dalhousie Libraries acquired Cockerell's historical binding collection and a few of his own bindings as a generous donation from his friend William Inglis Morse.
The opportunity to add another unique item to the Douglas Cockerell Fine Binding Collection rarely arises, but last month one came on the market in Seattle, Washington. The beautiful binding was commissioned for a 1907 Oxford University Press edition of Robert Browning's poetry, and thanks to a donation to support the development of the book collection, the Dal Libraries were able to to acquire it.
The full blue morocco Cockerell binding features gilded leaf and floral designs in all four corners and the five compartments of the spine panel. The book, which is in superb condition, is also graced with green marbled endpapers and is a pleasure to hold and leaf through.
The Douglas Cockerell Fine Binding Collection is housed in Special Collections on the 5th floor of the Killam Library. If you'd like more information about the Cockerell fine bindings or would like to see any of the items in the collection, please contact Karen Smith, Special Collections Librarian (kemsmith@dal.ca or 494-8803).