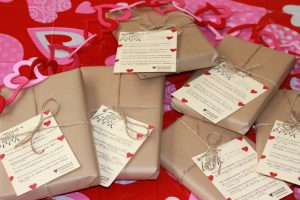 This Valentine's Day, find love in the library. 
Blind Date with a Book
When: Wednesday, February 14
Where: Killam Library (11 a.m.-3 p.m.), MacRae Library (12-2 p.m.), and Kellogg Library, Tupper location, (8:30 a.m.-5 p.m.)
What: Fall in love with a good book.
If you're looking for mystery, fantasy, poetry, romance, or… science fiction, the Killam, MacRae, and Kellogg libraries are where you'll want to be this Valentine's Day.
Blind Date with a Book wants to set you up with the book of your dreams, featuring sharp and witty profiles better than anything you'll find on Tinder.
Just come to one of the above mentioned Dal Libraries on Valentine's Day. Check out the display of discreetly wrapped books and peruse the descriptive tags. You're sure to find one that quickens your pulse.
We've added a new element year! Rate your date on Twitter @DalLibraries and be entered for a chance to win an awesome prize. Did you date earn 1 heart, or 5?