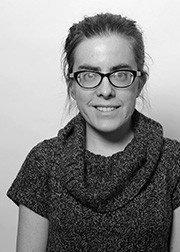 What brought you to the MLIS program at Dal?
My passion for reading and learning began at an early age and naturally developed into a single-minded goal to become a librarian. I geared my undergraduate education towards both my passions but also made sure that it would enable me to apply to MLIS programs after graduation. I also spent numerous hours volunteering at my local library and eventually got a job working for the public library system in my hometown. During my undergrad, my passion for libraries only grew through the various interactions I had with the academic librarians.
While I applied to multiple MLIS programs across Canada, I ultimately choose Dalhousie for a variety of reasons. I was drawn to Dalhousie's program because, unlike so many of the programs across the rest of Canada, Dalhousie's program offers practical experience built into the program through practicums and internship opportunities. Studying in a smaller community appealed to me as it would help to foster better relationships with the students in my program. The face-to-face lectures were also a driving factor in my decision. I was also very excited to become involved with the various societies that were affiliated with the program.
What drew you to the internship at the Dal Libraries?
My experience with academic librarians during my undergrad as well as my love of research has led me to want to pursue academic librarianship. When the opportunity arose to gain practical experience in this field of librarianship, I was very excited. Also, I love learning outside of the a classroom, and I was looking to gain more hands-on experience in certain aspects of librarianship. While I had no experience in architecture, planning or engineering, I was interested in using the skills I had learned in my undergrad and the MLIS program to help students in this faculty. This is a great opportunity to come out of my masters degree with such a great work experience.
What's your educational background?
I have a BA in history from the University of Victoria.
What have you been doing during your internship?
I am working on several different projects this summer:
Journals: We are working on is a project to record all the print journals in the library, along with alternative access points so that the librarians can evaluate them to see if any titles can be withdrawn.
Updates: We are also working on several projects to update LibGuides, reference training documents, and Sexton Library web pages as well as the Sexton Library tour video.
Collections: We are also working on a project to determine a list of new titles that could be purchased for various faculties such as chemical engineering or Internetworking.
CoLab project: Along with the rest of the interns, I am also working on a project to support the research being done for Dalhousie's 200th birthday.
Fun or interesting fact about you:
I have almost 10 years of professional theater training.