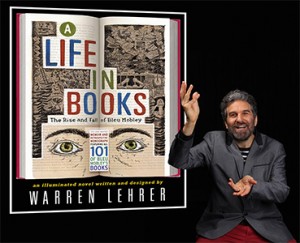 When: Friday, March 13 at 12:00 p.m.
Where: Paul O'Regan Hall, Halifax Central Library
Award-winning writer/designer/visual literature pioneer Warren Lehrer is coming to Halifax to present a multimedia performance/reading of his new "illuminated novel," A Life in Books: The Rise and Fall of Bleu Mobley.
Lehrer is known as a pioneer in the fields of visual literature and design authorship. His books have been acclaimed for capturing the shape of thought and reuniting the traditions of storytelling with the printed page.
A Life in Books, Lehrer's first novel, contains 101 books within it, all written by Lehrer's protagonist— who is a controversial author that finds himself in prison looking back on his life and career. In this funny and thought provoking performance, Lehrer presents an overview of Bleu Mobley's life in books via many of Mobley's cover designs and other biographical materials, including animations and video performances of Mobley book excerpts.
Don't miss this chance to see William Lehrer's multimedia presentation of A Life in Books in person!
Reviews for A Life in Books:
"In A Life In Books, Warren Lehrer has written a profound commentary on this nausea-inducing unique moment in the grand transition from Silly Mind to Machine Mind. Amusingly and smartly enough, he may have helped transition 'the last great American novel' to the first 'great illustrated novel' which is how novels started. A Life In Books is brilliant, beautiful, delicious for eyes and mind."
–  Andrei Codrescu poet, novelist, journalist, public radio commentator
"In Warren Lehrer's ingenious, one-of-a-kind novel, A Life In Books: The Rise and Fall of Bleu Mobley, we see all the covers of all 101 books supposedly written by the narrator over the last several decades… A tour-de-force!"
– Kurt Andersen Studio 360
"For anyone who has ever resisted judging a book by its cover, now's your chance: In A Life In Books, author and graphic design visionary Warren Lehrer crafts a vivid kaleidoscopic odyssey that frames one man's life through not one, but one hundred different books—and book jackets. In this quirky, yet unmistakably modern evocation of the illuminated manuscript, Lehrer's book reminds us that we are what we do. And, for that matter, what we publish."
– Jessica Helfand graphic designer, writer, educator, founding editor Design Observer
"A meticulously illustrated chronicle… Lehrer's 101 cover designs for Mobley's books are pitch perfect. And like the best film title sequences, which establish moods or introduce plotlines, these fictional covers are vehicles by which Lehrer illuminates Mobley's tale of success and failure… Lehrer has created a parallel art world"
– Steven Heller The Atlantic
This presentation is jointly sponsored by Dalhousie Libraries, the Mount Library at Mount Saint Vincent University, the Patrick Power Library at Saint Mary's University, the Nova Scotia College of Art and Design Library and the Nova Scotia College of Art and Design Department of Design. A special thank you to the Halifax Central Library for their support of this event.