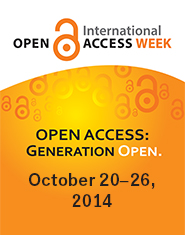 Open Access Week, a global event now entering its eighth year, is an opportunity for the academics and researchers to continue to learn about the potential benefits of open access, to share what they've learned with colleagues, and to help inspire wider participation in helping to make open access a new norm in scholarship and research. (from the Open Access Week website)
This week, the Dalhousie Libraries will be doing a blog post a day on different topics related to open access, as well as hosting two events. 
One of the concerns that is sometimes raised about open access publishing is the possibility that open access journals are of lesser quality than non-open access journals. Journal quality is not directly tied to publishing business models and non-open access journals quality issues often make their way into public view through sites like Retraction Watch.
Selecting the best journal for an article can require some quick research whether a researcher chooses open or closed forms of publication. There are a number of straightforward checks researchers can perform to assess the quality of an OA journal.
Is the journal in the Directory of Open Access Journals (DOAJ)? Is the publisher a member of the Open Access Scholarly Publishers Association (OASPA)?
Most reputable open access journals will have an entry in DOAJ. Use the DOAJ listing to learn more about the journal.
If not the journal doesn't have a DOAJ entry, consider a different journal.
Does the journal have a website? Do the links work and lead to appropriate content?
Check that the website content is credible and of a good quality.
Numerous language errors (spelling, vocabulary, syntax) and poor information design can be a sign of dubious journal quality.
Does the journal charge author processing charges (APC)? Does the website design make it easy and straightforward to determine what those fees are? Are the fees reasonable? Is the process for waiving or reducing fees clear?
A well-run journal will provide information about charges before you submit and many journals will waive APCs for graduate students.
Are the terms of any copyright transfer or author agreement available to you before submitting an article? Are the terms suitable for your purposes?
The terms should be made available to you before you submit your article.
Some journals will be open to altering the terms.
Is the journal still active and publishing a reasonable number of articles in a fairly regular pattern?
Low article counts may indicate a very new journal or can be a warning sign of poor quality.
Scan the titles and abstracts of the recently published articles. Do the articles fit within the journal's scope and within the discipline?
Out-of-scope articles can suggest editorial problems.
Scan the list of authors. Is there a range of people publishing in the journal?
Too many articles by the same person over a couple of issues can be a warning sign.
Download and examine at least one article.
Do you have to register to read the article? If so, the journal is not fully open access.
Is the article well formatted? Poor design and layout can be a sign of quality control issues.
Is the article generally well-written? Does it meet disciplinary norms for structure, depth and currency? Poorly written or otherwise weak articles can be a sign of weak editorial and peer review processes.
Is the editorial board listed? If not, you may want to look elsewhere.
Do the board members make sense?
If in doubt, spot check to confirm identities and expertise.
10. Is the peer review process clearly explained?
A well-run journal will provide a clear explanation of what the peer review process includes and may also have specific formatting requirements to support the review process.
11. Are the editorial guidelines (submission processes, timelines, style guide) available, sensible, and easy to understand?
You should be easily request or locate all the supporting information.
Missing, confusing, or vague guidelines can be a signal of poor journal management.
This list is based on one produced by Walt Crawford; other similar lists can help in the decision-making process.
The Dalhousie Libraries will be hosting two events for Open Access Week:
Differing Perspectives on Open Access: a panel discussion
Thursday, October 23/4–5:30 p.m.
Room 224, Student Union Building

Open Access at MIT Press: OA in a large university press
Friday, October 24/1 p.m.
Room 2616, Killam Memorial Library