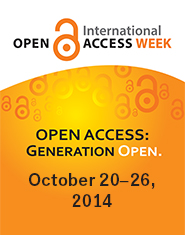 Open Access Week, a global event now entering its eighth year, is an opportunity for the academics and researchers to continue to learn about the potential benefits of open access, to share what they've learned with colleagues, and to help inspire wider participation in helping to make open access a new norm in scholarship and research. (from the Open Access Week website)
This week, the Dalhousie Libraries will be doing a blog post a day on different topics related to open access, as well as hosting two events.
Dr. Randall Martin Encourages Researchers to Consider Publishing in Open Access Journals
Dr. Randall Martin is a Killam Professor in the Department of Physics and Atmospheric Science and the Department of Chemistry. This fall, he was named to the Royal Society of Canada's College of New Scholars, Artists and Scientists, one of the highest recognitions a Canadian academic can receive.
Dr. Martin has published many articles, and some of his research has appeared in open access journals. Open Access refers to the publication of scholarly research that is free to read and online. Open Access publishing models represent a fundamental shift in the economics of how scholars communicate. The prices libraries pay for scholarly books and journals have steadily increased to the point that libraries can no longer keep up.  The result is that a lot of publicly funded research and writing has become inaccessible to the public and even to the academics and scholars that create this content in the first place. Open Access is an attempt to reverse this trend by changing the business model for scholarly communications. Open Access business models vary but many Open Access journals require the author to pay author processing fees; Dr. Martin pays those fees from his research grants.
October 20–26 marks the globally recognized Open Access Week, a chance for academics and researchers to continue to learn about the benefits of open access and why this is an important aspect of scholarly communications. In recognition of Open Access Week, we asked Dr. Martin to share his thoughts on his experiences publishing in open access journals.
"I publish in open access journals because they are easily available to a broad audience, increasing the accessibility of our research," says Dr. Martin. When considering an open access journal to publish in, he looks at the focus area of the journal, the readership, and its reputation.
"For many readers, the discoverability of individual articles is an important factor," he says. There are somewhere between 2,000 and 4,000 science articles published each day, a staggering number for any reader to get through. "Open access publications are worth serious consideration as a way to increase visibility," says Dr. Martin.
A selection of articles that Dr. Martin has published in open access journals include:
Croft, B., J. R. Pierce, and R. V. Martin, Interpreting Aerosol Lifetimes Using the GEOS-Chem Radionuclide Model, Atmos. Chem. Phys., 14, 4313-4325, 2014. http://www.atmos-chem-phys.net/14/4313/2014/acp-14-4313-2014.html
van Donkelaar, A., R. V. Martin, M. Brauer, R. Kahn, R. Levy, C. Verduzco, and P. J. Villeneuve, Global estimates of ambient fine particulate matter concentrations from satellite-based aerosol optical depth: Development and application, Environ. Health Perspec., doi:10.1289/ehp.0901623, 2010. http://ehp.niehs.nih.gov/0901623/
Sauvage, B., R.V. Martin, A. van Donkelaar, X. Liu, K. Chance, L. Jaegle, P.I. Palmer, S. Wu, and T.-M. Fu, Remote sensed and in situ constraints on processes affecting tropical tropospheric ozone, Atmos. Chem. Phys. , 7, 815-838, 2007.  http://www.atmos-chem-phys.net/7/815/2007/acp-7-815-2007.html
The Dalhousie Libraries will be hosting two events for Open Access Week:
Differing Perspectives on Open Access: a panel discussion
Thursday, October 23/4–5:30 p.m.
Room 224, Student Union Building

Open Access at MIT Press: OA in a large university press
Friday, October 24/1 p.m.
Room 2616, Killam Memorial Library