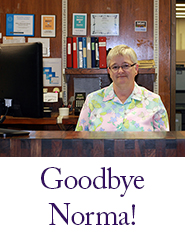 Norma Yorke is retiring after 39 years of working at Dalhousie. In 1974 she started at the Registrar's Office, and spent time working in the Division of Community Dentistry and in the School of Recreation, Physical and Health Education before coming to work in the Killam Library. Norma has worked in the Killam for 16 years.
Her plans for retirement include expanding the home-based ornamental concrete business that she and her husband started seven years ago, Serenity Ornamental Concrete. "I enjoy the customers and the satisfaction of creating something that people enjoy," says Norma.
"Norma has been a welcoming, friendly and helpful presence at the Killam Library's main service point.  She has developed strong friendships with many of her colleagues and built relationships with library patrons. She will be greatly missed by many!  It has been a pleasure working with Norma and I wish her much happiness in her retirement years,"  says Sandra Dwyer, who was the Head of Circulation at the Killam for a number of years.
Best wishes Norma, and we will miss you!
Some samples of Norma's concrete work: