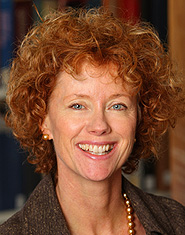 The Dalhousie Libraries are pleased to welcome Donna Bourne-Tyson as our new University Librarian, effective November 1, 2011. Donna comes to Dal from Mount Saint Vincent University where she has been University Librarian since 2005.
Donna has led successful initiatives in the areas of open access, institutional data preservation, learning communities, user-driven e-book acquisitions, the re-imagining of library spaces, and information literacy. She has been recognized for creating a collaborative, inclusive work environment and a culture of service innovation.
Donna has served in leadership roles with professional associations, including terms as president of three provincial or divisional library associations. She has presented frequently at various national and regional events and conferences. Donna is a founding member of Libraries Nova Scotia, a partnership of all public and academic libraries in the province. She is an alumna of Dalhousie's Master of Library and Information Studies program. View Donna's profile
Welcome to Dal, Donna–we're look forward to working with you!