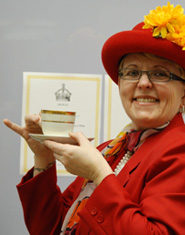 High teas were held this morning at the Kellogg and Law libraries, showing the Brits that we too can party up Buck House style.
Pearls, fascinators and tiaras lent a distinct air of elegance to the scene, as guests sipped an assortment of teas out of the finest china and nibbled cucumber sandwiches and sweets. The dinner rings sported by the Law Library ladies would perhaps have been considered a trifle outre if seen inside Westminster Abbey, but within the confines of the Cassels Brock Student Lounge were perfectly acceptable. Royal hats-off to Mary MacDonald: it was she who first conceived of the Kellogg high tea (Mary is missing from the photo because she took it).
Long life and happiness, Will and Kate, from all of your ardent fans at the Dalhousie Libraries!