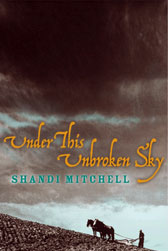 This evening at 7:30 in the Killam Library, writer and filmmaker Shandi Mitchell will be reading excerpts from her novel Under This Unbroken Sky, winner of a Commonwealth Writers Prize, the Margaret and John Savage First Book Award, and the Thomas H. Raddall Atlantic Fiction Prize.
Read our own Ian Colford's review of Under This Unbroken Sky, and the Dal News interview with Shandi.
See you at the reading!