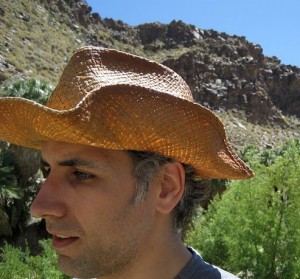 The Dal Libraries are very pleased to introduce you to Michael Steeleworthy, who joined us on August 1. Michael is a Public Services Librarian at the Killam Library. He manages the system-wide collection of online learning materials, which includes tutorials and quizzes on library resources and learning strategies. You'll also see Michael working at the Killam's Reference Desk, helping members of the Dal community with their research needs, in-person and online.
I frequently travel to the south-west United States, where I have family (and so I can take in the sun). This photo is from a May 2010 hike on the West Fork Trail of Palm Canyon in Palm Springs, California; this Christmas I'm going to bicycle through Joshua Tree National Park. To put it plainly, I'm a fan of the desert, of John Steinbeck, and of the coast, so I get along real well with California.
Contact Michael at steeleworthy@dal.ca or at 494- 3661.