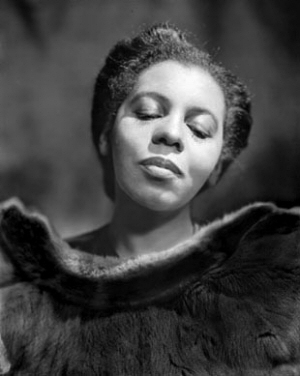 Portia White, contralto and teacher, achieved international fame as a classical concert singer in the 1940s and 1950s. White was born in Truro, Nova Scotia in 1911 and raised in Halifax. Her father, a Baptist minister, was the first Black graduate of Acadia University in 1906.
Portia White became the first Black Canadian concert singer to win approval across North America, despite difficulties obtaining bookings because of her race. She reached the high point of her brief career with a widely acclaimed recital at Town Hall, New York, in 1944. She then embarked on a highly successful tour of Canada and the northern US, attracting comparisons to African-American contralto Marian Anderson. Tributes include a commemorative postage stamp; a monument in Truro; a film documentary (Think on Me); and the 2007 East Coast Music Awards' Helen Creighton Lifetime Achievement Award.
The Killam Library music collection includes White's CD "First You Dream," a collection of songs recorded in 1944 and 1945. The call number is M 23 W53 F57 1999, and you can listen to it in our audio room on the 5th floor.
Visit The Encyclopedia of Music in Canada for more information about Portia White.