Thursday April 30, 7:30 pm
5th Floor, Killam Library
Join us for a celebration of Carole Glasser Langille's first story collection When I Always Wanted Something (Mercury Press, 2008). Carole is well known as the author of several books of poetry, most recently Late In a Slow Time (Mansfield Press, 2003). Her previous book of poems In Cannon Cave (Brick Press, 1997) was nominated for the 1997 Governor General's Award and the 1998 Atlantic Poetry Prize. She has also written books for children.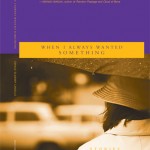 When I Always Wanted Something is Carole Langille's first published exploration of the world of the short story. The collection is about our inability to see what is right in front of us or deep within us, yet how, despite these blind spots, we try again and again to connect with each other.
Originally from New York City, where she studied with the poets John Ashbery and Carolyn Forche among others, Carole now lives in Black Point, Nova Scotia with her family. She teaches a poetry course in Dalhousie's Creative Writing Program and will be teaching at The Humber School for Writers Summer Workshop this July.
Carole will be introduced by Sue MacLeod, who was Halifax's inaugural Poet Laureate from 2001 to 2005. All are welcome to attend this special event! Please call 494-3615 for more information.