The Information Management Public Lectures give attention to exciting advances in research and professional practice. The topics are diverse reflecting the importance and global extent of Information Management in today's society. The lectures are open to all members of the Dalhousie campus and surrounding community. Click here for the full schedule. We encourage you to attend in person, but if that is not possible you can access a recording on our website following the lecture. Live streaming is not currently available.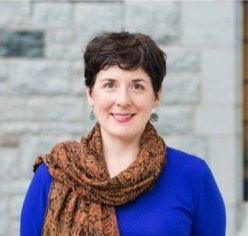 Learning in Digital Information Spaces: What is the Role of User Engagement?
Heather O'Brien
University of British Columbia
Lecture Details: 
Thursday, January 12th, 2017
11:45am-12:45pm
Room 3089, Kenneth C. Rowe Management Building, 6100 University Avenue
Abstract: User engagement, a quality of user experience, is characterized by the depth of an actor's cognitive, temporal and/or emotional investment in an interaction with a digital system. Recent emphasis on user engagement suggests that the need to engage people with and through technology has never been more paramount: failure to do so may result in lost revenue for e-commerce and search engine companies, and access to/engagement with technology may impact social relationships, civic engagement, health, learning, and so forth. Yet there is a lack of empirical evidence linking user engagement with such personal and societal outcomes in information interaction studies. Of particular interest in this research is the outcome of learning: information consumers continuously clarify information needs and goals; interpret, evaluate and analyze information; and incorporate new insights into their existing knowledge base. This talk will report on two studies in online news and reading environments that have examined the relationship between user engagement and learning.  These studies demonstrated the challenges with assessing learning in dynamic digital information spaces, the role that content and system characteristics play in fostering engagement and learning, and the need to critically probe the relationship between UE and learning in information interaction.
 Biography: Heather O'Brien is an Associate Professor at the iSchool, University of British Columbia, where she teaches and researches in the area of human information interaction. Dr. O'Brien is best known for her work in the area of user engagement with technology, where she has contributed numerous publications, including two recent books, Why Engagement Matters: Cross-Disciplinary Perspectives and Innovations on User Engagement with Digital Media (edited with Paul Cairns, 2016) and Measuring User Engagement (authored with Mounia Lalmas and Elad Yom-Tov, 2014), as well as the User Engagement Scale (UES), an experiential questionnaire that is used internationally to understand digitally mediated user experience. Her current research, supported by the Social Sciences and Humanities Council of Canada and UBC's Hampton Fund, is exploring the intersection of user characteristics (interest, cognitive load, affect, topical and technological expertise), tasks, and learning within exploratory search environments.