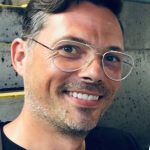 MIM student Jason Swinamer has won a national competition sponsored by the Canadian Evaluation Society Education Fund (part of the Canadian Evaluation Society). He is the first Dalhousie student to win this competition.
The Student Excellence Advancing Evaluation Knowledge (SEEK) competition is open to all students in a course in program evaluation in Canada. The Award is intended to "recognize exemplar and diverse student contributions to the advancement of evaluation theory and/or practice" (source). Jason won for his paper entitled "Inclusion and Diversity in Evaluation Design" (MGMT 5006: Program Evaluation).
MGMT 5006 instructor Kaireen Chaytor says: "It was wonderful having Jason as a student of evaluation. He was especially interested in evaluation theory and how theory can be applied. In his paper he demonstrated how, for instance,  the work on responsive evaluation could be used to gather diverse voices to advise on decision making. He notes the critical role of empathy in evaluation practice and outlines strategies for the evaluator to engage culturally responsive evaluation. I really like one of his points in his call for action which states: 'The field of evaluation is well poised to lead organizations in making inclusion more than a checkbox through existing and widely accepted and practiced methods of evaluation design and implementation.' He deserves this win."
Congrats to Jason!