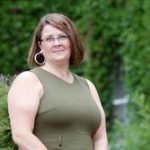 SIM sends congrats to Suzanne van den Hoogen (MLIS '09) on being appointed the new University Librarian, Patrick Power Library at Saint Mary's University! Her appointment begins August 1st, 2018.
From the announcement (via Malcolm Butler, VP-Academic & Research, SMU):
Suzanne brings more than twenty years of experience working in and managing academic libraries. She joins us from Saint Francis Xavier University, where she took on roles of increasing responsibility, including her current position as Public Services Librarian. Suzanne has also held leadership roles in key regional and national organizations, such as the Atlantic Provinces Library Association (APLA), the Council of Atlantic University Libraries (CAUL), Novanet, and the Canadian Federation of Library Associations. Suzanne is committed to the library as a strong and vibrant resource for learning and research on campus. With her passion for education and strong background in developing and implementing new and innovative services, Suzanne will be a welcome addition to the library team and to Saint Mary's.