By: Domenic Rosati (MLIS Candidate 2017)
Listen to a video/audio recording of the lecture here.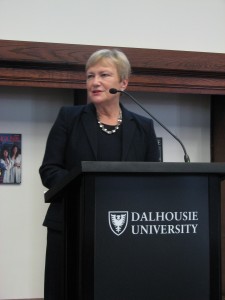 This year's Horrocks National Leadership lecture was given by Dr. Ingrid Parent, University of British Columbia's University Librarian and past president of the International Federation of Library Associations (IFLA). Dr. Parent's lecture shared her insights about successful leadership within libraries. One of the key take away's for me was that leadership in every sphere is always related to the values that we hold in common, such as (in the case of librarians and information professionals) access to and preservation of information.
Leadership in the community
Dr. Parent began by discussing one of the key issues that libraries and other memory institutions face: the democratization of access to information through technology. Before, libraries, archives, and museums could count on their roles as gatekeepers to the information and heritage universe. Now, individuals harness and expect instant access to information anytime, anywhere.
She asks us to think about how libraries and other memory institutions can deal with this through leadership in the community, using roles the library and information science community plays on a global level as an example.  First, she spoke about the efforts of setting international standards and policies for our profession, and that we are often unaware that standards and policies made on a global level effect our local practices.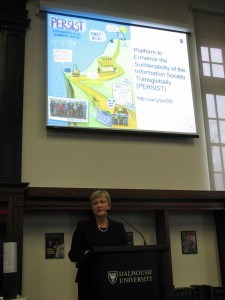 Dr. Parent illustrates this by telling us about her experiences with IFLA, specifically her involvement in an international intellectual property meeting. Her example spoke to the vital advocacy role that information professionals have in international discussions. As IFLA president, she had only three minutes to speak to the interests of our profession regarding fair copyright and intellectual property standards. Conversations she had with representatives of other professions were also important to continuing the borrowing and lending missions of libraries. Dr. Parent also spoke about her involvement with The Platform to Enhance the Sustainability of The Information Society Transglobally (PERSIST), and how she advised which resources and content were going to be selected for preservation.
Another value important to our profession is bringing the public together for a common cause. She gave two examples of successful library programming in two different cultural locations, Botswana and Brisbane, Australia, that demonstrated the value of access to resources and teamwork in very different contexts. Turning to her home institution, she spoke to how UBC has been able to apply some of those common values to support their aboriginal community, through truth and reconciliation initiatives, a free First Nations borrowing card, and partnerships to provide resources and spaces for indigenous communities for the digitization of heritage materials.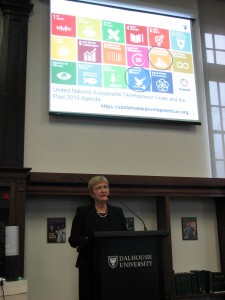 Unfortunately, the contemporary scholarly publishing model, with its increasing subscription fees and electronic access limitations, is threatening long term access to research. She argues that, with our library consortiums, we can advocate for alternatives, such as open access, or for consortia sized purchases and negotiation power.
Leadership in the Profession
Dr. Parent then spoke about the challenges library and memory institutions face as a whole. Those in our profession have developed contemporary information seeking practices, from innovative spaces that emphasize inclusiveness, to models of embedded librarianship to manage these challenges. The international advocacy that she has been involved in, such as getting the UN to adopt public access to information as one of its international goals, requires hard work that demonstrates action.
Leadership in the Library
First, Dr. Parent recommends that libraries inspire and lead with a strategic vision that is developed in consultation with all library stakeholders, translated into concrete deliverables, and able to get the various library units and staff to feel like it directly applies to their work.
Then it is important to cultivate and nurture teams. In particular she spoke about the necessity to cultivate a good workplace morale, which is everyone's responsibility because leadership is actually a broad activity that encompasses all staff. Leaders are agents of change and part of that change is taking a 10 steps ahead approach. Since looking 10 steps ahead is inherently risky, she advised that thinking hard about risk is important to library leadership.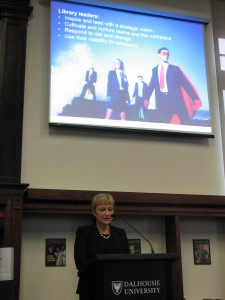 She also related some of the hard choices library leaders have to make, especially when libraries are hard-pressed financially. She spoke to this using the example of her oversight of a 3 year deficit reduction plan at UBC, which caused many hard choices to be made. Leadership in that circumstance required working through each negative scenario very thoroughly in order to make the best decision.
Dr. Parent emphasized the unique role the library can play in the field of advocacy. She eluded to an OCLC report that people are starting to think of libraries more and more as an enabling space. Dr. Parent argues that we can make the most of this role and advocate for important issues such as access to copyrighted material, or access to the internet.
In conclusion, Dr. Parent said we need to learn from each other both on a global and local scale. Learning from each other and taking care of each other are key ways in which we can start to understand our roles and responsibilities in being a force for change internationally, in the profession, and in our local institutions.