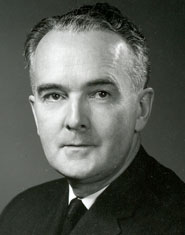 2010 is the Centenary year of Dr. Chester Bryant Stewart, who was Dean of Dalhousie's Faculty of Medicine from 1954 until 1971. Through his leadership the Dalhousie Medical School was transformed into a leader in medical education and research in Canada. The Sir Charles Tupper Medical Building was the brainchild of Dean Stewart, whose search for funds led to the Tupper being designated Nova Scotia's Centennial project in 1967.
To mark Dr. Stewart's centenary a display of relevant artifacts has been mounted in the windows of the Kellogg Library and the display windows of the adjoining Dalhousie Medical Alumni Association, both just off the Memorial Room of the Tupper Building.The artifacts include the sketch of Stewart by Sir Fredrick Banting with whom Stewart completed the first survey of medical research in Canada; items related to his pioneering research work to protect air crew while RCAF Wing Commander during WWII; his work with Federal and Nova Scotia Governments on health insurance; with the Association of Faculties of Medicine of Canada in creating the Health Resources Fund, and with the Faculty of Medicine.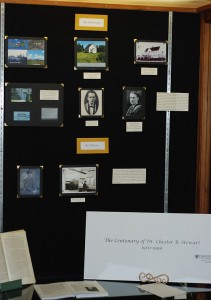 Read Dr. Ross Langley's piece on Stewart's contributions to medical education at Dal.