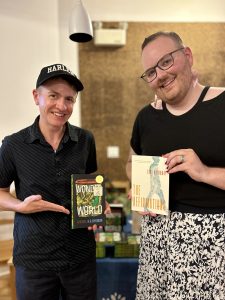 On Monday, August 14, a crowd gathered at the Glitter Bean Café in Halifax to celebrate Wonder World and listen to K.R. Byggdin, 2023 winner of the Thomas Raddall Atlantic Fiction Award.
The evening began with K.R. Byggdin reading a passage from their debut novel. It was followed by a conversation with poet and host Luke Hathaway about their writing process and some of the book's themes, including belonging, humour, family dynamics, and finding queer community and elders.
K.R. Byggdin then took questions from the crowd and offered insight into their time with Dalhousie's creative writing program, the book editing process, and what the future holds for the author. K.R.'s next steps include graduate studies in creative writing with the University of Guelph and they indicated they are already working on their next novel. We look forward to reading it.
Thank you to the Writers' Federation of Nova Scotia (WFNS) for presenting this event in partnership with Dal Libraries. Each year, we partner to showcase the most recent winner of the Thomas Raddall Atlantic Fiction Award, Atlantic Canada's largest literary prize. The award, established in 1991 by Thomas Raddall, honours the work of fiction writers in the Atlantic region and provides "the gift of time and peace of mind" so essential to the creation of new work. The award continues with ongoing support from the Raddall family and is administered by the Writers' Federation of Nova Scotia.
We want to thank the Glitter Bean Café for hosting us in their beautiful space. The Glitter Bean is a unionized and collectively owned working environment and a hub for the queer community. Visit their website to learn more or make a donation to their GoFundMe.
Thank you also to Bookmark Halifax for making books available for purchase at the event.