This story originally appeared in Dal News. 
by David Ryan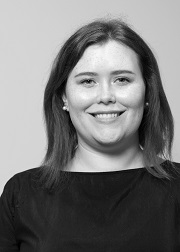 For Nicole Slipp, the discovery of librarianship was serendipitous. A few years ago, she got a part-time job at the Halifax Central Library. She had no idea it would be so transformative.
"It made me realize what a great fit librarianship would be for me. I like the pace and ever-changing nature of the job, the opportunities for teaching, and the way working in a library involves helping people find what they want or need," she says.
It was the start of a journey that led her to Dalhousie's School of Information Management (SIM), where she has spent the last two years completing her Master of Information (MI) degree. Originally from Saint John, N.B., Nicole has a wealth of interests and a diverse background — including a Ph.D. in medieval literature — ideal for the multi-faceted field of information management. The MI program is renowned for exposing its students to new possibilities and changing their expectations.
"I didn't expect to get so into either research data management or health sciences librarianship, but after taking elective courses in those subjects, I would be happy to work in those fields," she says. "I also really liked archives and took both available electives in that subject. I'm a bit of a knowledge magpie, in that I will get very interested in many different subject areas as I study them."
In addition to studying, Nicole gained valuable experience by completing an internship in the Killam Library. It was an opportunity she made the most of. "I worked part-time on the reference desk during the first and second year, and full-time on the desk and in the office during the summer of 2019. I also worked on projects like coding survey results, building LibGuides, and planning and running an escape room with my co-intern. It was such a great internship because of the variety of things we got to work on and the excellent team of librarians who supervised us in our work."
Completing an internship with the Dal Libraries while studying full-time is a recipe for a hectic schedule. But amazingly, Nicole did even more during her time at Dalhousie. In addition to her internship, she held two other part-time jobs during the school year. "That might seem intense, and it was," she says. "My husband, Scott, was definitely picking up the slack at home. I'm not sure how I would've eaten if not for him."
On top of all this, Nicole still found time to contribute to the School of Information Management Student Association (SIMSA). "In first year, I was Special Projects Chair and this year I was Co-Chair," she says. "Working on SIMSA, which involved coordinating student academic and non-academic events and representing out students' interests at various levels, was really rewarding and I'm glad I got involved."
Adapting to sudden change
Balancing work, study, and committee participation wasn't the only challenge Nicole had to face. Her final term was disrupted by the COVID-19 crisis. She and her fellow students were forced to make a sudden transition to online classes. "Not knowing that my last in-person class was my last in-person class is a bit sad, in retrospect," she says. "It was such a sudden change."
In addition to having her studies disrupted, Nicole had to face the prospect of a conference postponement. "My co-intern, Nicole Marcoux, and I were also supposed to be presenting at WILU (Workshop for Instruction in Library Use) 2020 with Lindsay McNiff about our escape room project," she says. "That conference will hopefully be happening as planned in 2021 now."
Along with the challenges came new opportunities. "The positive side to the switch was that the last part of my internship I worked mostly for Academic Technology Services, a unit with the Dal Libraries," she says. "I got more training on Brightspace and tools like Collaborate so I could provide some online support to instructors getting their materials online."
The last two years have been a whirlwind for Nicole, but the ride isn't over yet. "In July, I'll be having a baby!" she says. "In the long-term, I'll be looking for full-time work. It will be nice to have just one job for a change."
With her diverse background and fascination for discovery, the future is filled with possibilities. "As long as the job involves research and helping people with their information needs in some way, I'll be happy," she says. "But I think my top job would be working as a librarian in an academic library."