The Dalhousie Libraries would like to honour the generosity and memory of Miss Ellen Webster, who left a gift to the Libraries when she passed away in 2017 at the age of 101.
Miss Webster worked as a reference librarian at the Halifax Memorial Library when it opened in 1951 until she retired. "I worked for Ellen Webster in my first library job at the Halifax Memorial Library. We always called her Miss Webster at work and she was such a nice lady, always kind and patient with staff and library users," said Ann Barrett, Associate University Librarian for Scholarly Communications and Head of the W. K. Kellogg Health Sciences Library.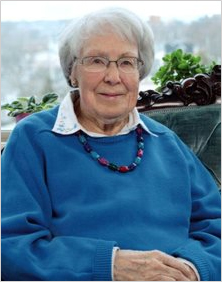 To honour Miss Webster's known wishes, this generous bequeathment will be added to the previously existing Ellen Webster Library Fund, an endowment to be spent in the area of Arts and Social Sciences. In recent years, these funds purchased resources in the subject areas of Indigenous studies, music, film, and library and information studies.
"Miss Webster was known for her friendliness, smile, humour, and her Nova Scotian-style cooking," noted Donna Bourne-Tyson, University Librarian. "We will also remember her for her generosity and commitment to life-long learning and libraries."