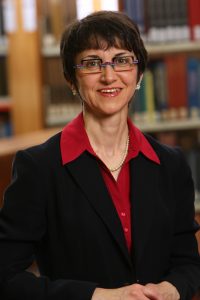 We are pleased to announce the appointment of Michelle Paon as Interim Associate University Librarian and Head of the Sexton Design & Technology Library. As Associate University Librarian – Resources, she oversees the Libraries' acquisitions budget, and works closely with the Resources Management Librarian and library staff across the system who select, acquire and provide access to relevant scholarly resources in a variety of formats. As Interim Head of the Sexton Library, she oversees the provision of library resources and services to faculty and students in the Faculty of Engineering and the Faculty of Architecture and Planning.
Michelle Paon has been a science librarian at the Dalhousie Libraries since 2002, supporting faculty and students in the study of biology, the environment, oceanography, and marine management, and for shorter periods, psychology and neuroscience, sustainability, and Indigenous issues.
Michelle was actively involved in the establishment of the DalSpace online research repository and the Killam Library Learning Commons – at the time, both ground-breaking projects for a Canadian research library. She has served on the Curriculum Committees of the Dalhousie Faculty of Science and College of Sustainability. In recent years, she has partnered with colleagues at the Dalhousie Writing Centre to provide integrated research-writing services for students and to conduct related research. Michelle has also provided mentorship and inspiration in the Dal Libraries as a leader in the delivery of effective liaison librarian services.
Michelle holds a Master of Library and Information Studies from Dalhousie University and a Bachelor of Science (Biology) from St. Francis Xavier University. She is a member of the Atlantic Provinces Library Association and is a past President and life member of the Nova Scotian Institute of Science. Her research interests include collaborative service initiatives, open access, information literacy, and environmental history.