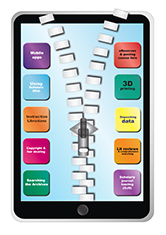 March 26 Update: Unzipped presentations are now available to view. Part I (presentations 1–5) and Part II (presentations 6-10) See the list of presentations below if you're looking for a specific topic.
Libraries Unzipped, a series of presentations by Dal's librarians and library staff for Dalhousie Faculty, is back. This year Libraries Unzipped will be on Thursday, February 20. RSVP to marlo.mackay@dal.ca to sign up for the day, or just to attend a couple of sessions. All sessions are 15 minutes long.
For those on the Agricultural Campus and Dalhousie Medicine New Brunswick, this event will be live-streamed. Please contact marlo.mackay@dal.ca for more information.
Dal Libraries UnZipped 2014
Lightning Information Sessions for Faculty & Researchers
Date:  Thursday, February 20
Time:  8:30 a.m.—12:35 p.m.
Location: Kenneth Rowe Building, Room 1011
** RSVP by February 19 to: marlo.mackay@dal.ca **
8:30–9 a.m.: Welcome from Donna Bourne-Tyson, University Librarian of Dalhousie
Coffee and snacks, meet your subject specialist librarian.
1. 9–9:15 a.m.: Using Scholars @ Dal to Help People Discover Your Research
presented by Heather MacFadyen & Sarah Stevenson
Scholars @ Dal is a library initiative designed to discover and promote the work of Dalhousie researchers. Heather and Sarah will provide a short overview of how the profiles the Dal Libraries are building in DalSpace will increase scholars' visibility in Google Scholar, make it easier to find people to collaborate with, and provide a safe and convenient place to store copies of completed work.
2. 9:20–9:35 a.m.: Research Data Repository Service
presented by Sarah Stevenson & Marc Comeau
Is your research data feeling neglected? Do you have old data that requires archiving? We can help. The Dalhousie University Libraries provide a safe place to store your data, in Canada, on the Dalhousie campus. Find out what the Dal Libraries are building in this new service.
3. 9:40–9:55 a.m.: 3D Printing
presented by Marc Comeau
This session will discuss the 3D printing service offered by the Dal Libraries. Marc will explain the submission process and provide a few examples of how it's being incorporate into research and teaching at Dalhousie.
4. 10–10:15 a.m.: eReserves: Traditional, electronic, and by posting course lists on Bblearn
presented by Johnelle Sciocchetti
Making reading materials accessible has never been easier! Library staff collect electronic permalinks, scan selections from books, and upload everything to your course page on Blackboard. This session will detail what we need from you and walk you through submitting your eReserve form.
5. 10:20–10:35 a.m.: Host Your Scholarly Journal with the Dal Libraries & OJS
presented by Geoff Brown
The library can help you produce and host your scholarly journal online with Open Journal Systems (OJS). The success of many journals can be tied to a structured production system, quality indexing, and "plugging in" to the discovery tools used by academic libraries. We can help you establish an online presence for your journal that will stand up over the long term. We help prospective journals with both initial setup and ongoing support.
10:40–10:55 a.m.: Break
6. 11–11:15 a.m.: Here There Be Instruction Librarians: Supporting your students, teaching, and assignments
presented by Lindsay McNiff & Melissa Helwig
The Dal Libraries are study spaces and research hubs for students and faculty, but they are also support teaching and the development of student research skills and research independence. Lindsay and Melissa will discuss the range of research sessions the Dal Libraries can provide to complement your course outline and/or specific assignments,  and how these sessions can contribute to more productive research habits and better evaluative skills from your students.
7. 11:20–11:35 a.m.: © and the new Fair Dealing: What you can do for your students and what the Dal Libraries can do for you
presented by Jason MacDonald
Jason MacDonald, the Intellectual Property Officer of Dalhousie, will address the university's new fair dealing  guidelines and how they affect the use of Blackboard, classroom activities, and the Dal Libraries' eReserves. Services offered by the Copyright Office will also be highlighted.
8. 11:40–11:55 a.m.: The Library Is Oh So Appy
presented by Melissa Helwig
Did you know that you have access to a broad variety of scholarly resources from your laptop, tablet, and other mobile devices? Join Melissa to learn about mobile access to library and other scholarly resources at the Dalhousie Libraries. During this session we'll look at some mobile apps you may want to add to your toolkit.
9. 12–12:15 p.m.: Literature Reviews & Comprehensive Search Strategies
presented by Robin Parker & Melissa Helwig
Working on a literature review and want to get all of the research on your topic? Comprehensive synthesis projects such as systematic reviews, scoping reviews, and clinical practice guidelines depend on thorough and reliable methods for searching the literature. Come for an enlightening overview of how to approach and design comprehensive search strategies that will improve the quality of your literature review in any discipline.
10. 12:20–12:35 p.m.: The New Archives Database
presented by Jennifer Lambert
The University Archives' new database is up and running. It currently holds 150,000 file-level descriptions, representing approximately 45 per cent of our finding aids. We are actively exporting data into ICA-AtoM, a web-based, open-source application for standards-based archival description that is becoming the preferred platform across North America. Jennifer will demonstrate basic, advanced, and faceted searching tools and techniques to access archival materials related to all areas of teaching and learning across campus.