Digital Preservation: A Three-Legged Stool
Date: Wednesday, February 15, 2012
Time: 12:00 to 1:00 p.m.
Location: Killam Library, Room 2616
What is digital preservation?  How can we ensure our digital assets will be accessible far in the future?  What is a trustworthy repository and how do they work?
To find out, come to a Lunch and Learn on February 15th!  Archives & Special Collections staffer Creighton Barrett will provide an introduction to digital preservation and highlight some exciting international initiatives aimed at the long-term archiving of electronic resources such as e-journals, digital images, research data, and other materials.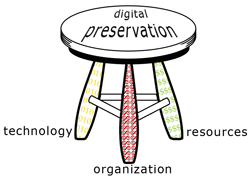 Creighton recently attended the Digital Preservation Management Workshop, a 5-day event instructed by some of the leading experts in the field.  The workshop outlines the organizational, technological, and resource-related infrastructure (the three-legged stool) needed to manage a digital preservation program.  Creighton will introduce these key components of a digital preservation infrastructure and leave plenty of time for questions and discussion.
This is the first in a planned series of Lunch and Learns by the Dalhousie Libraries, so bring your lunch and come find out what we're up to.  All are welcome!