By Lidia Elsdon: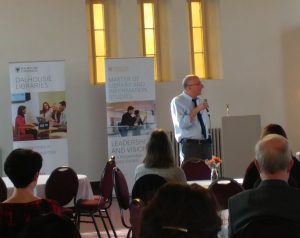 To kick off International Open Access Week, Dalhousie hosted a public lecture by Dr. John Willinksy on Monday, October 23, 2017, The Future of Open Access to Research and Scholarship: Lessons from the Medieval to the Early Modern Era. Dr. Willinsky, a Dalhousie alumnus, is the director of the Public Knowledge Project (PKP) which develops open source scholarly publishing material. Learn more about PKP here.
A video recording of the lecture can be viewed here.
What is open access?
Open access is the movement to make knowledge accessible to all. It is not about making musical albums, novels, or art free. At its core, its objective is to defend education. Dr. Willinksy's goal is to make research freely accessible. "Access is a right that is endemic to the nature of learning," he said during Monday's lecture. According to Willinksky, roughly 45% of all scholarly literature that has been published in the last five years is openly accessible.
The issue of open access is inherently linked to copyright, intellectual property law, and trademark. Dr. Willinksy's talk also explored relevant, modern day issues of open access such as the lawsuit against Sci-Hub, a website that pirated scientific journals, for copyright and trademark infringement.
Where did the concept of open access come from?
Dr. Willinksy's lecture took us back to the early medieval period to delve into the history of open access and its inadvertent origins in the Benedictine Monasteries. The Benedictine Rule, created by Saint Benedict in 480 CE, created a type of learning that had nothing to do with ownership; the value of a work was in its use. Willinksky even holds that they had a working theory of intellectual property in these monasteries.
Dr. Willinksy's upcoming book, The Intellectual Properties of Learning: A Prehistory from Saint Jerome to John Locke will be available January 2018.