SIM is sad to report that MLIS alumna, Robyn Gray, has passed away.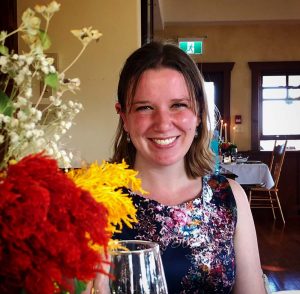 Robyn Emily Gray passed away in Calgary on January 29, 2022, at the age of 31 years, after a courageous year-long battle with brain cancer.
Born on January 18, 1991, in Calgary, from an early age she showed an aptitude for music, having the innate ability to pick out, on almost any instrument, a melody she had heard, regardless of how complex. She played clarinet, oboe, bass guitar and stand-up bass while in junior high and high school in music programs; she had five years of piano lessons and taught herself to play the ukulele. But the musical love which she pursued and which brought her so many years of enjoyment was playing bagpipes. She got her first practice chanter at the age of six, and immediately started playing melodies on it by ear.
Robyn's other love was books. She was read to from the day she was born, and that love of reading stayed with her forever. She loved all things book-related, developing an interest in public and academic libraries during her time at UVic, and nurturing that love by visiting as many libraries in European countries as she was able during the year she spent in Berlin. While living in Germany, she made the decision to further her education, and was accepted into the Master of Library and Information Studies graduate degree program at Dalhousie University in Halifax, Nova Scotia, which she started in the fall of 2014. Robyn earned her MLIS degree from Dalhousie in 2016, and immediately started a job in her chosen field in Elk Point, Alberta. She moved to Camrose, Alberta, in late fall of 2017, again with a job in her field. The last stage of Robyn's career was as the Director of the Public Library in Camrose, a job which she started in January of 2019, but from which she was forced to take long-term disability leave in the spring of 2021 due to her devastating cancer diagnosis and its cruel manifestations.
A celebration of Robyn's life will be held in Calgary as soon as it is possible to gather a larger in-person group.
In lieu of flowers, memorial donations may be made to the Daybreak Rotary Club in Camrose by e-transfer to camrosedaybreaktreasurer@gmail.com, noting the name and address of the donor. Tax receipts can be provided. All donations made will go directly to providing books for children from newborn to five years of age in Camrose every month, to encourage literacy and family reading time.
Donations may also be made to the Rotary International Foundation, which provides funding for projects around the globe, and donations can be directed to specific areas of focus, such as literacy. An online portal for donations is available on the Foundation's website at Rotary.org.
Donations may of course also be made to your favourite charity.
Though the pipes have fallen silent, her music will forever live on
Mountains will stand tall and true, the ocean will sing her song
And in the forests and fields and over gently rolling hills
The sounds of her laughter echo . . . still.
– Gord Robinson