Re-posted from Dal News. Click here to read the full post:
Today's meeting is with Steve Morley, an IT architect with Medical Information Technology (MedIT) in Dal's Faculty of Medicine.

What's your favourite thing about working at Dal?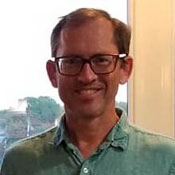 The team of people that I get to work with each day are fantastic. When I started working in the Medical School I had no idea I would be a "lifer." After I had been there a year, Sharon Forward, the Director of Medicine Admissions said "just wait you'll be here in 10 years before you know it." She took me to lunch when I had been there that long. Our department spends our time supporting the entire Faculty of Medicine community. One of the biggest projects our team was ever part of was the opening of the Saint John satellite medical school for New Brunswick students. It took our entire team to get that launched, and the quality of this program is a testament to the team. I am very proud to be part of that group.
What's the most surprising thing we might see on your resume/cv?
That I was made an honorary classmate of the Medical School classes of 2006 and 2007. (See answer to the next question to learn how that happened).
What's the strangest job experience you've ever had?
Prior to the pandemic, Microsoft Teams, Zoom, and other collaboration platforms weren't in widespread use. One of the strangest things I had to do happened when a local student got the mumps. We had to set up a computer in Theatre A of the Tupper Link with a special laptop with a microphone and speakers, and then I delivered a computer to the student's home so she could participate in class.
I suspect that act may have to contributed to me being named as an honorary member of her graduating class. I got to go to the Medical School Gala to accept the award. Ironically, my wife wasn't able to go because she had been teaching a session to the College of Pharmacy and was exposed to someone who had mumps. She had never had the mumps so was quarantined at home for 2 weeks. I like to think my grandfather was pleased. He graduated from the Dalhousie Medical School in 1944.