The School of Information Management is pleased to announce that Master of Information (MI) students Vinson Li and McKenzie Young have been selected as the ninth and tenth recipients (respectively) of the Dalhousie-Horrocks National Leadership Fund.
This Fund was established in 2007 to honour Dr. Norman Horrocks, OC, PhD, FCLIP (1927-2010) for his outstanding leadership in the field of librarianship in North America, Australia, and Europe. Over several decades Dr. Horrocks, former Director of the School of Information Management and Dean of the Faculty of Management at Dalhousie University, pursued a distinguished career of very active involvement in professional associations in the United Kingdom, Cyprus, Australia, the United States, and Canada. His many contributions, for which he received local, national and international recognition, have advanced the field and the careers of countless individuals. The fund supports a scholarship and an associated lecture series through an endowment donated by the many former students, colleagues, friends and admirers of Norman Horrocks.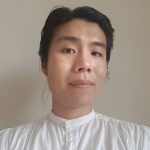 Vinson Li is originally from Toronto, ON and moved to Halifax in fall of 2020. Vinson began a Bachelor of Science degree with a specialty in pharmaceutical chemistry at the University of Toronto. They then transitioned into and graduated with a Doctor of Pharmacy, also at the University of Toronto. Their career working in libraries began working with Hart House Library at the University of Toronto. In 2020, they started their MI degree at Dalhousie University. Currently, Vinson is a reference intern at the W.K. Kellogg Health Sciences Library. They are involved with a scoping review that looks into how undergraduate medical education programs around the world handled the shift to online learning during the COVID-19 pandemic. They also work with Dr. Philippe Mongeon on several projects involving bibliometrics and scholarly communications. One project led to the publication of a conference proceeding about mapping the Canadian library and information science research landscape. Vinson considers helping others to be their top priority. During the summer working at the Kellogg, they remember helping a student refine a search for a review paper over the course of a few weeks. When they are not working or studying, Vinson likes to try out new recipes, garden, or take on a new sewing project despite having three others ongoing. They hope to graduate in summer of 2022 and while they aspire to be an academic librarian, Vinson is willing to keep his mind open to opportunities of all sorts.
McKenzie Young is a full time MI student currently in her last year of study. Originally from Vancouver, BC, McKenzie graduated from University of British Columbia (UBC) with a Bachelor of Arts in Anthropology and History. In her undergrad, McKenzie worked for a variety of GLAM (Galleries, Libraries, Archives, Museums) institutions including the PoCo Museum and Archives and as a researcher for UBC with many of the local archival repositories. After graduating from UBC, McKenzie worked at the Gathering Place Community Library as well as in federal government records management. In 2020, she moved to Halifax and started at Dalhousie University. Since moving to Halifax, McKenzie has prioritized opportunities to serve the Dalhousie community, both in and out of the MI program. In the MI program, McKenzie joined the School of Information Management Student Association, working to improve the experience of SIM students. In the past year, she has worked at Dalhousie's Sexton Design & Technology Library as the Reference Intern, helping students with research inquiries. Outside of work and school, McKenzie predictably enjoys reading, but also camping, cooking, and trying to keep her six plants alive. Following graduation, she aspires to continue her work supporting communities at either academic or public libraries.
This award will be presented at the Dalhousie-Horrocks National Leadership Lecture in January 2022. Stay tuned for more details!