The Information Management Public Lectures give attention to exciting advances in research and professional practice. The topics are diverse reflecting the importance and global extent of Information Management in today's society. The lectures are free of charge and open to all, unless otherwise stated.
All 2020-2021 lectures will be held virtually on Microsoft Teams. Click here for the full schedule. Lecture will be recorded and posted on our YouTube channel.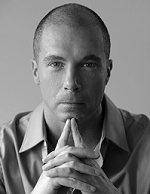 Co-sponsored by the Schulich School of Law (Dalhousie University)
Dr. Michael Arntfield
Western University
Lecture Details
Tuesday, November 24th, 2020
6:00pm
Microsoft Teams (click link at above date/time to join)*
*When you click the event link, a window will open asking you to download the Teams app if you don't already have it. You can ignore this. Just move that box and click the option to open in browser. Note: Safari is not recommended due to issues with video and audio. Please use Firefox or Chrome, if possible.
Abstract: In the summer of 2018, the Chief Coroner in Ontario announced an overdue inquiry into so-called "concealed homicides", or murders that had been improperly categorized, coded, and never properly investigated by police, and which have since ended up in the proverbial dustbins of history. While this was the first such admission of the fallacy of homicide data in Canada, an audit in the United States conducted by the Murder Accountability Project (murderdata.org) had already confirmed that as many as nearly 3000 murders in any given year have been mislead by police every year for at least the last twenty years, with some states having as many as 50% of all murders miscategorized as either suicides or accidents that the Centres for Disease Control and Prevention later confirmed were actually criminal homicides.
Yet, these contradictory records have never been properly reconciled, corrected, and the cases properly investigated, and the offenders for the most part remain at large and unidentified. The rate jumps to nearly 80% on average when tabulating murders committed on Native American lands. These same data, like the case that prompted the inquiry in Ontario, are believed to contain large clusters of serial killers given the often sophisticated counter-measures seen in many cases, and which led to critical misinterpretations by primary investigators as a result of crime scene staging and/or elaborate concealment efforts.
With both Canada and the United States using the same homicide records management system, the truth is that solved rates (known as "clearance rates") are at best an approximation of the actual number of homicides accurately identified and solved by police–a rate, it should be noted, that reached a historic low in 2016 without factoring in this margin of error of nearly 12% in terms of murders overlooked and never even screened-in for investigation. The annual murder rate per capital in each country therefore also in no way reflects actual occurrences of homicide. Bearing this reality in mind amid a timely discussion on police funding and accountability, this seminar will discuss how homicide investigation as a tertiary service sector industry is, like other industries, ripe for disruption, and will discuss the role of data scientists, advocates, and innovators in transitioning homicide investigation and scholarship toward a new standard of appropriate rigour.
Bio: Dr. Michael Arntfield is a professor, criminologist and homicide scholar at Western University where he founded the university's Cold Case Society unsolved crimes think tank, a data-driven victims' initiative that earned him Western's last Humanitarian of the Year Award. He is also co-director of the Murder Accountability Project in Washington DC, the world's largest homicide database that uses a proprietary algorithm to identify previously undetected patterns in serial homicide among nearly a million murders dating back forty years. The author of over a dozen books on criminal investigation and a former police detective, he also currently appears as the resident expert on the network series Time to Kill on Investigation Discovery and Mummy Mysteries on Discovery Travel.