Shared from the Dalhousie Libraries blog
Congrats to Samantha Adema (MLIS '19) on being appointed the new Indigenous Services Librarian at Dalhousie Libraries. She started in this role on September 1st.
From Dal Libraries: Sam (L'nu/Mi'kmaw) is a member of Sipekne'katik First Nation. She has a Master of Library and Information Studies (MLIS) from Dalhousie (2019) and a Bachelor of Arts from Saint Mary's, where she majored in history and classics and spent time at the Basentello Valley Archaeological Field School in Italy.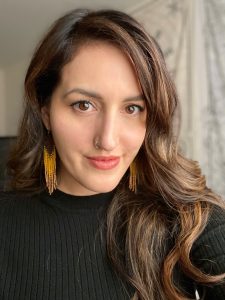 Sam is a familiar face to many of us in the Dalhousie Libraries because she worked as an intern in the Sexton Library while she did her master's degree. She has also worked at Halifax Public Libraries as both a community assistant and a library assistant. At HPL, Sam's primary responsibilities included building relationships with community members; building an inclusive, welcoming atmosphere; and providing services to library users such as one-on-one technology instruction and assistance with reference and research questions.
Sam has done research projects about unemployment among Nova Scotia's Indigenous youth and the potential for the public library to forge additional community partnerships to better serve the urban Indigenous population in North-End Halifax. She worked with community members and staff at the Mi'kmaq Native Friendship Centre and staff at the Museum of Natural History to show how community-led principles had a positive effect in boosting Indigenous attendance and involvement with the museum.
As Dalhousie's Indigenous Services Librarian, Sam is currently working remotely due to current on-campus restrictions related to COVID-19, but she is available to answer research questions via email and is available for remote consultations via Microsoft Teams for more in-depth research questions. When we return to campus, Sam will be based out of the Killam Memorial Library, but she is available to work with people from all campuses.
Sam works closely with faculty, researchers, staff, and students to support learning and research on Indigenous topics in all disciplines. She will also coordinate reference support, programming, and other services to users of Dalhousie's National Centre for Truth & Reconciliation Hub in the MacRae Library.
"Indigenous Services is a priority within the Dalhousie Libraries and we are thrilled to have Samantha join our team. These services are for Indigenous and non-Indigenous students, staff, and faculty but also for the local Indigenous communities," said Elaine MacInnis, Associate University Librarian Services and Head, MacRae Library.