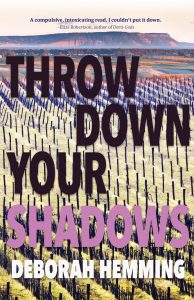 Deborah Hemming's debut novel "Throw Down Your Shadows" was published by Nimbus on July 30th. Deborah is an MLIS graduate (2017), a Reference and Research Librarian with Dalhousie Libraries, and the interim IM Liaison Librarian. An interview and review was included in the Chronicle Herald on August 21st (excerpt below – read the full article here).
Congrats Deborah!
From the Chronicle Herald: The lush vineyards of the Annapolis Valley (not far from where she lives and where she spent her adolescence) provide the backdrop for Deborah Hemming's debut novel, a coming-of-age story with a surprising twist.
"I think I always wanted to set a book here," she said in an interview from her home in Wolfville. "It was a really magical place to grow up. It felt really free."
Hemming spent her childhood years in Port Williams, a small community just outside Wolfville. Maybe it is why she is drawn to stories set in rural places. While fictional characters living in cities can find anonymity to develop and evolve through their varied experiences, those living in the country face something different, she said.
"Rural stories don't provide that anonymity," she said. "You are known. Characters seek out change and growth in other ways. The whole idea of pushing boundaries is different. You have to do it interpersonally."
Throw Down Your Shadows (Vagrant Press), follows 16-year-old Winnie as she navigates growing up on the fringes in rural Nova Scotia alongside her three best friends, all boys. Their lives change dramatically when Caleb, a new boy from the city moves to town. Under Caleb's influence, Winnie and her friends test boundaries, and in the process reveal to themselves their inner complexities, desires, and darkness.