Submitted by Terri Tomchyshyn (MLS '81):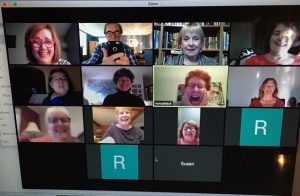 Every spring librarians anticipate the opportunity to renew acquaintances, participate in professional development activities and reconnect with fellow classmates. This happens at annual library conferences taking place in many cities across North America and in fact, around the world. A highlight of any conference is the gathering of alumni of the various schools with Dal's IM program being no exception. A tradition started by beloved director, Dr Norman Horrocks, and continued to this day by the school's directors, the alumni gathering is a storied tradition anticipated by Dal alumni attending a library conference just about anywhere in North America. 
This year, there was not a conference in sight; librarians were not exempt from COVID-19 restrictions.
 Dal's Class of '81 known as Masters of Library Service alum, have been a tight knit group of friends since our first week of school. Isolation orders were not going to keep us from finding a way to get together to celebrate our friendships and shared experiences going back over 40 years! 40 years!  Yes, we find that number hard to believe too! 
We decided to meet virtually. The gathering was more inclusive because of the nature of its medium. Thirteen of us from Vancouver to Newfoundland, as well as Australia and New Zealand met via Zoom at the end of May to celebrate and hear how the pandemic is impacting on our lives. Appropriate beverages and snacks were included – dependent on time of day.  There were reminiscences of our 30th reunion – held at the then brand new SIM offices and classrooms; and there are plans being made for a (hopefully) real time gathering at Dal for a 40th reunion in 2021.
The Class of 81 has always had a reputation for its camaraderie and spirit. We did it again, despite the barriers of not not being able to meet physically. We had a grand three hours catching up and celebrating ourselves. We look forward to doing it again.