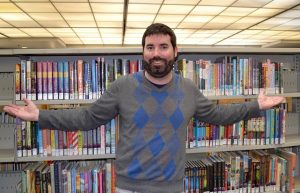 Dave MacNeil (MLIS '09 – manager of collections and access, Halifax Public Libraries) is featured in this article (The Star Halifax) discussing new library kiosks at the Halifax Stanfield International Airport. More great ideas from HPL!
From the article: "Wednesday will mark a book launch of a totally different kind as a joint venture between Halifax Public Libraries and Halifax Stanfield International Airport takes flight.
The unveiling of two library kiosks — one located pre-security, the other post-security — will provide travellers, airport staff and local residents with the opportunity to check out a varied collection of between 350 and 400 books.
Described as similar to "big, glass-doored fridges," the two kiosks will be stocked with books accessed by using a Halifax Public Libraries card.
"You simply scan in your card, type in your PIN number, open the door and browse the books in there. Then you take what you want, close the door, and you're good to go. It's very easy to use," said Dave MacNeil, manager of collections and access for Halifax Public Libraries.
The RFID tags on the books — a radio frequency identification similar to the tech on credit and debit cards that allow users to tap to pay — will tell the kiosk when a book has been removed. Once a user selects a book and closes the door, the kiosk scans what's inside, knows which book is not there, applies the borrowed book to the user's account and prints out a receipt.
MacNeil said a little more than a year ago, the airport approached them about a partnership to help promote the library's digital resources. That discussion quickly grew into a partnership to co-share the cost of two kiosks to provide a physical library presence at the airport.
"We're trying to cater to all audiences so there's a good mix of general fiction for adults, picture books and board books for kids, lots of quick reads that would include short stories, general trivia, your Chicken Soup type books, travel books," MacNeil said.
"All things you can pick up if you're travelling to pass some time waiting for your flight or choose from any of the number of novels that you might want to take with you on your trip."
MacNeil said the kiosks are similar to "an unstaffed branch," with all the same rules in place. You can have your books for three weeks, renew them online if need be, and drop them back off at the kiosk, a drop-off box at the airport's baggage pick-up area, or at any of the 14 library branches across HRM.
Although the book-borrowing kiosks are initially limited for the time being to those who possess a Halifax Public Libraries card, MacNeil said they're looking at ways to expand the system."
[photo credit: YVETTE D'ENTREMONT /STARMETRO]