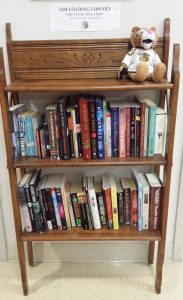 Did you know there is a small lending library in the SIM admin area? The library is located in Suite 4010, between offices 4013 and 4014. All faculty, staff and students are welcome to use it at any time.
Important: The lending library operates on the honour system – users are asked to "take a book, leave a book", meaning if you borrow a book you must replace it with another. Please do not leave a book unless you can also take one. We want to ensure the stock is regularly refreshed and that staff do not have to spend time organizing the shelves.
This library is open to everyone, but in turn that means everyone must work together to respect the system and keep it tidy.
Using the lending library is the perfect way to discover a new book or pay a much-loved book forward to someone else, without stretching your budget or storage space. Come check it out today.