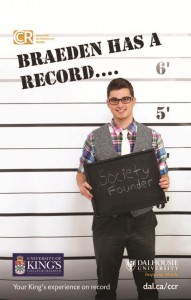 At Dalhousie University, we understand that learning experiences go well beyond the classroom. With so many volunteering, community engagement and campus related opportunities available for students to participate in, it's really no surprise that many students have become very involved with Dal's extracurricular experiences. Choosing to participate in these activities would be a positive decision for any student to make, however; much of the student body at Dalhousie is not aware of just how beneficial it can be to their job search.
With Dalhousie's Co-Curricular Record (CCR), students can have their extracurricular activities recognized in a formal document that shows employers just how involved they are outside the classroom. Finally, a better way to present your involvement than a bullet point on a resume! It also compliments a traditional academic record very nicely.
Although it does look great paired with an academic transcript, the Co-Curricular Record has one fundamental difference: you can build it yourself in myCareer. You create it, Dalhousie validates it.
To access and build your Co-Curricular Record:
Log into myCareer
Click on the Co-Curricular Record tab
Search for positions or click the Advanced Search tab
In addition to this convenient process, there are different ways to build your CCR!
Have your extracurricular activities recognized! Your future employer will be impressed.