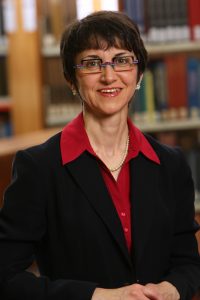 Please join us in wishing Michelle Paon all the best on the occasion of her retirement from the Dalhousie Libraries.
Michelle started working with the Dal Libraries in the summer of 1997 as an MLIS graduate student intern. A few years later, she was hired as a part-time Evening & Weekend Librarian at the Killam Library, a role she held for three academic years. In 2002, Michelle was appointed as a science librarian, supporting faculty and students in biology, environment, oceanography, and marine management, and for shorter periods, psychology and neuroscience, sustainability, and Indigenous issues. She has been an inspiration and a mentor in the Dal Libraries as a leader in the delivery of effective liaison librarian services.
In addition to her liaison duties, Michelle was actively involved in larger initiatives such as the establishment of DalSpace and the Killam Library Learning Commons – at the time, both ground-breaking projects for a Canadian research library.
In 2018, Michelle was appointed to the role of interim Associate University Librarian Resources and Head of Sexton Library, and later, she became the Associate Dean Resources. While at the Sexton Library, Michelle provided leadership to a team of professional librarians and a team of staff and student employees, serving the faculties of Engineering and Architecture & Planning. In her role as Associate Dean Resources, she successfully oversaw the development of a streaming video acquisitions process and oversaw a system-wide budget of more than $7 million, led the Resources team, and oversaw the libraries' sixth branch, our website.
Michelle is a caring and thoughtful colleague. She was a founding member of the Dal Libraries green team, a team that was responsible for staff education on adopting more sustainable practices. She is also deeply committed to reconciliation, regularly attending seminars and lectures and taking courses from Indigenous Elders and scholars every year.
We will all miss Michelle's kind nature and gentle mentorship as we wish her all the best in her well-earned retirement!